■Course

There are two Trail Courses; one is about 84-kilometer course running inside or along the mountain sides encircling Kyoto City and the other is about 50-kilometer one in Keihoku area.
The Trail path (Higashiyama, Kitayama (eastern and western) and Nishiyama Courses) starts from Fushimi-Inari and goes to Kurama through Higashiyama, Mt.Hiei and Ohara. And then, it leads you from Nishigamo to Arashiyama and Koke-dera Temple through Takao and Kiyotaki. There are lot of historical temples and shrines near the Trail Course, so you will enjoy both walking and getting a feel for history and culture of ancient capital of Kyoto.
Keihoku Course was set up in 2010. This course runs through beautiful scenic rural areas with Kitayama cedar forest and clear stream, and you will enjoy natural feature of Tanba district very much.
Let's walk on the Trail to meet a different atmosphere of Kyoto than usual.
Trail Boards are placed on the Trail path to give you clear direction.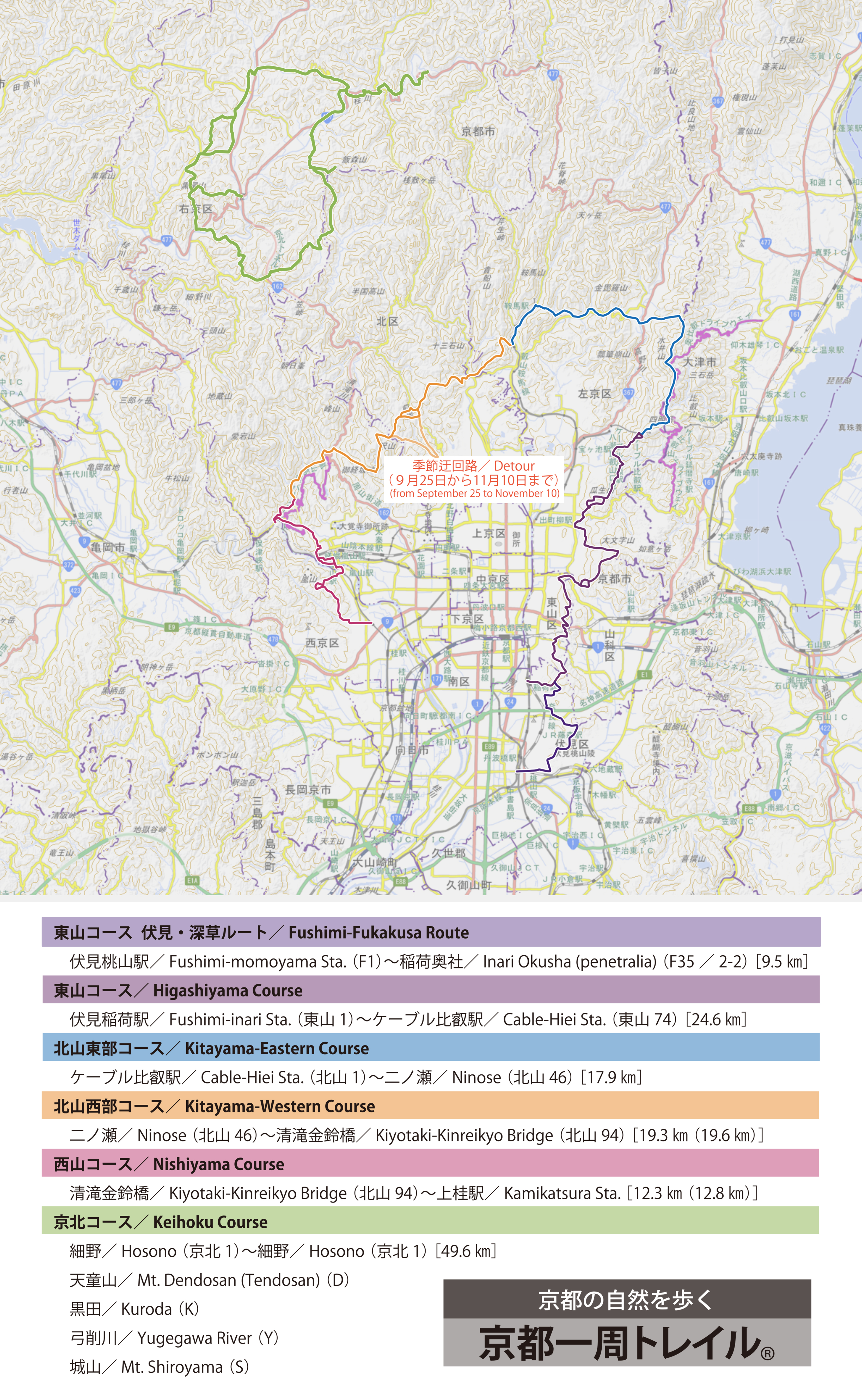 ■High points

Higashiyama Course (Trail Board Number from 1 to 74 of Higashiyama Course)


---

Good spots near the Course
(places shown in red color are very close to the Course)
Hoto-ji Temple・Fushimi Inari Taisha Shrine・Mt. Inari-yama・Tofuku-ji Temple・Sennyu-ji Temple・Hiden-in Temple・Tsurugi-jinjya Shrine・Imakumano Knnon-ji Temple・Hokoku-byo Shrine・Imahie-jinjya Shrine・Hokoku-jinjya Shrine・Seikan-ji Temple・Mt. Kiyomizu-yama・Kiyomizu-dera Temple・Jishu-jinjya Shrine・Dainichi-do Temple・Shogun-zuka・Maruyama Park・Sonsho-in Temple・Shoren-in Temple・Chion-in Temple・Awata-jinjya Shrine・Ryoon-ji Temple・Incline・Keage Power Plant・Nanzen-ji Temple・Konchi-in Temple・Biwako-sosui Canal・Anyo-ji Temple・Himukai Daijingu Shrine・Sankaku-ike Pond・Nyakoji-bochi Cemetery・Mt. Nyoigatake・Mt. Diamonji-yama・"Daimonji" Fire Grate・Romon-no-taki Falls・Shishigatani-sanso Stone Monument・Namikiri-fudoson Temple・Reikan-ji Temple・Nyakoji-jinjya Shrine・Eikan-do Temple・Anraku-ji Temple・Honen-in Temple・Ginkaku-ji Silver Pavilion・Mt. Yoshid-yama・Shirakawa-tenjingu Shrine・Jyogan-in Temple・Uryu-yama Shogun Jizo・Tanukidaniyama-fudoson Temple・Shisen-do Temple・Manshu-in Temple・Takeda Yakuso-en Herb Garden・Mt. Tenko-yama・Sekizan・Shugakuin Rikyu Imperial Villa・Chikusa Tadaaki Stone Monument

↑The view of Kyoto City from Shogun-zuka
(left: long distance view of Mt. Atago-yama, green area in the center: Kyoto Imperial Palace)


Eastern Kitayama Course (Trail Board Number 1 to 46 of Kitayama Course)


---

Good spots near the Course
(places shown in red color are very close to the Course)
Great Mt. Hiei (Highest point of Mt. Hiei)・Hieizan Enryaku-ji Temple (Konpon-chudo, Amida-do)・Jyodo-in Temple・Shaka-do Temple・Koji-rin・Kurodani Seiryu-ji Temple・Yokawa Chudo・Sanzen-in Temple・Jyakko-in Temple・Komatsu Museum・Ebumi-jinjya Shrine・Mt. Konpira-san・Shizuhara-jinjya Shrine・Yuki-jinjya Shrine・Kurama-dera Temple・Kibune-jinjya Shrine

←View of Mt. Yokotaka-yama and Mt. Mizui-yama from Kiraragoe Pass
(left: Ohara Basin, right: long distance view of Mt. Hira area)


Western Kitayama Course (Trail Board Number 47 to 94 of Kitayama Course)


---

Good spots near the Course
(places shown in red color are very close to the Course)
Moritani-jinjya Shrine・Fuji-jinjya Shrine・Mt. Jyusangoku-yama・Shimyo-in Temple・Ruins of Himuro (old ice room)・Himuro-jinjya Shrine・Dofu-jinjya Shrine・Mt. Shiroyama・Bodaino-taki Falls・Sawanoike Pond・Kozan-ji Temple・Saimyo-ji Temple・Jingo-ji Temple・Tsukinowa-dera Temple・Atago-jinjya Shrine・Mt. Atago-yama

←Calm Sawanoike Pond surrounded by beautiful Kitayama Cedar trees


Nishiyama Course (Trail Board Number 1 to 51 of Nishiyama Course)


---

Good spots near the Course
(places shown in red color are very close to the Course)
Shomotsu-iwa Rock・Kabe-iwa Rock・Otagi-dera Temple・Adashino Nenbutsu-ji Temple・Gio-ji Temple・Danrin-ji Temple・Shaka-do Temple・Nison-in Temple・Rakushi-sha Temple・Jyojyakko-ji Temple・Mikami-jnjya Shrine・Okochi Sanso Villa・Nonomiya-jinjya Shrine・Tenryu-ji Temple・Mt. Ogura-yama・Kameyama Park・Daihi-kakuTemple・Hogon-in Temple・Hyakunin Isshu (one hundred waka poems) Museum・Arashiyama Togetsu-kyo Bridge・Horin-ji Temple・Mt. Arashiyama・Matsuo-Taisha Shrine・Tsukiyomi-jinjya Shrine・Saiho-ji Temple(Koke-dera Temple)・Suzumushi-dera Temple・Jizo-in Temple

←Ochiai (junction of Kiyotaki-gawa River and Hozu-gawa River)
(rock wall on the left bank: Shomotsu-iwa Rock)


Keihoku Course (Trail Board Number 1 to 92, K1 to K19 and YO-1 to Y5 of Keihoku Course)


---

Good spots near the Course
(places shown in red color are very close to the Course)
Taki-matano-taki Falls・Kuzu-jinjya Shrine・Chanomi-toge Pass・Paraglider departure site・Tatsugasaka (stone Buddhist image)・Kamo-jinjya Shrine・Yamaguni-jinjya Shrine・Mt. Kokino-fuji (Mt. Yamaguni-fuji)・Jyosho-koji Temple・Hyakunen Zakura (One hundred-year Cherry Blossom)・Special Big Cedar Trees community around the headstream of Katanami-gawa River・Ido-toge Pass・Mt. Sendan-yama・Hachiman-gu Shrine・Ruin of Kaminaka-jyo Castle・Hosen-ji Temple・Yatani-goe Pass・Shiroyama (Ruin of Shuzan-jyo Castle)・Mt. Kuro-o-yama・Uogafuchi・Kurio-toge Pass

←Taki-matano-Taki Falls